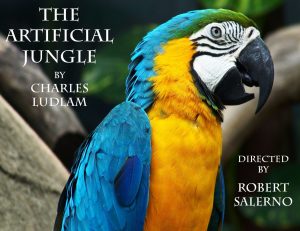 April 10, 2022, San Diego-
Vantage Artistic Director  Robert Salerno directed a successful run of Charles Ludlam's The Artificial Jungle at The Point Loma Playhouse. The play is a hilarious, campy send-up of the Film Noir style of The Postman Always Rings Twice. In this pulp fiction parody, all the emotions are there, lust, greed, guilt, double-entendre, silliness, ventriloquism, and of course… MURDER.
June 28, 2022, San Diego-
The Artificial Jungle received multiple Aubrey Awards. Winners at the 56th Annual Aubrey Awards Celebration, Sunday, July 31, 2022.
AUBREY AWARDS:
Best Direction: Robert Salerno
Best Sound Design: Robert Salerno
Best Special Effects: Robert Salerno,  Jana Leibo, Jay Maloney
Supporting Actor- Comedy: Brian P. Evans
Supporting Actress- Comedy: Kim Breslin
Minor Supporting Actor- Comedy: Rhys Green
VIEW VIDEO CLIP: PRESS HERE (https://youtu.be/tlx1f9vt5cI)