Coming soon…

https://walkwithamal.org/events/

In celebration of Little Amal's visit to San Diego, Vantage Theatre is creating a special performance at the ​La Jolla Library. Anne Hoiberg, author of Tears of War, is partnering on the project​. We are creating a unique performance highlighting the stories of seven refugee and asylee women from her book, Tears of War–Stories of Refugee Women. The women will present their stories of fleeing their war-impacted country, surviving the horrific journey to refuge, adjusting to a refugee camp or a neighboring country, and resettling in San Diego.
The proceeds from the presentation will be donated to Casa Cornelia. Two of the women from Tears of War were granted asylum through the efforts of Casa Cornelia.
Casa Cornelia is committed to providing pro bono legal services to uphold the legal rights of individuals fleeing their native countries due to political, social, religious, or ethnic persecution and/or torture.
Casa Cornelia is the only non-profit law firm in San Diego County that provides free legal services to San Diego's detained unaccompanied children. In addition, they provide immigration legal services to children detained elsewhere in the U.S. who were released in San Diego and are still in deportation proceedings, and they represent children who are not in deportation proceedings but are eligible for immigration relief. Without this program, many children wouldn't have access to relief. or the protection afforded them by law.
We will showcase this presentation at the​ La Jolla ​ Library 7555 Draper Avenue La Jolla CA on November ​4th Saturday at 3 pm.
Tickets: Suggested donation $20.00 Cash at door or http://vantagetheatre.com/wordpress/donate
Reservations: vantagetheatre@gmail.com or 858-461-8552
*****************
Vantage A.D. Robert Salerno Directs The Artificial Jungle– Wins Multiple Aubrey Awards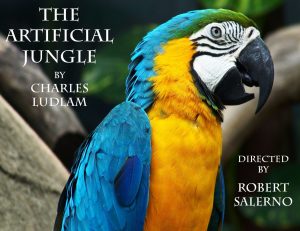 April 10, 2022, San Diego-
Vantage Artistic Director  Robert Salerno directed a successful run of Charles Ludlam's The Artificial Jungle at The Point Loma Playhouse. The play is a hilarious, campy send-up of the Film Noir style of The Postman Always Rings Twice. In this pulp fiction parody, all the emotions are there, lust, greed, guilt, double-entendre, silliness, ventriloquism, and of course… MURDER.
The Artificial Jungle received multiple Aubrey Awards at the 56th Annual Aubrey Awards Celebration, Sunday, July 31, 2022.
AUBREY AWARDS:
Best Direction: Robert Salerno
Best Sound Design: Robert Salerno
Best Special Effects: Robert Salerno,  Jana Leibo, Jay Maloney
Supporting Actor- Comedy: Brian P. Evans
Supporting Actress- Comedy: Kim Breslin
Minor Supporting Actor- Comedy: Rhys Green
VIEW VIDEO CLIP: PRESS HERE (https://youtu.be/tlx1f9vt5cI)
*************
COLOR OF LIGHT PREMIERE SPARKLES
ON OPENING NIGHT!
 
The play is based on the true story of Henri Matisse's creation of the chapel at Vence. Matisse was the best-loved artist of the 20th century, but the inspiration behind what he called his greatest achievement is practically unknown.
In 1942, 73-year-old Henri Matisse was living in Nice, recovering from a serious operation. He needed help, so he hired Monique Bourgeois, a 21-year-old nursing student. While she looked after him, they debated religion, art and the meaning of commitment — and he came to love her.
Five years later, they were both living in Vence. Now she was Sister Jacques-Marie, living in a convent where the chapel was a garage with a leaky roof. Would Matisse design a stained-glass window so the convent could raise money for repairs? Instead, he created a new chapel, the Chapelle du Rosaire, for her; the building stands as a testament to the enduring care she gave him.
"This is not a work that I chose, but rather a work for which I was chosen by fate, he said. "It is the masterpiece of my entire career."
REVIEWS:
"An illuminating work…explores key chapter in life of Matisse… The show's most eye-catching aspect is director Robert Salerno's series of projections, which do justice both to Matisse's earlier paintings and the radiance of his work on the chapel — and help drive home the artist's creed that making art is something akin to prayer."– San Diego Union-Tribune
"Michael Barahura's lighting design and Salerno's projections that bring out the brilliance of Matisse's work that light up the stage, especially in Act II, are worth the trip downtown.  The completion of the Chapelle du Rosaire in Vence that Matisse would refer to as his "final and greatest work" is stunningly projected on the back walls and sides of the theatre at plays end with a picture of both artist and now Sister Jacques- Marie. It's spine tingling."– Carol Davis, San Diego Critics Circle
"Matisse, considering his design for the chapel, talks about wanting to "create a sense of vastness in a very narrow space … an environment that lifts spirits up." Vantage Theater has done that at the Tenth Avenue Arts Center. See it while you can."– La Jolla Light
"The production really shows its stuff in the stagecraft of projected images and musical ambiance, which envelop the audience in a looming atmosphere of danger and apocalypse until liberated by the color of Matisse's light and Monique's devotion… as audience we cross the line from observer to participant in an ongoing act of creation. That is the color of truth and worth the color of your money."–The Buzz
"Director Robert Salerno said it's all part of a confluence of theater, visual art, gallery space and a diverse group of artists. "And the aim of this confluence, of all these different people coming [together], is to create beauty. So this is hopefully, a work of art about art."  Vantage Theater prides itself on doing new work and work that has something to say. In this case, the play says something about art and its importance in our culture."–PBS
"Moments after an intense introduction, Artistic Director Robert Salerno creates an environment that's generally relaxing and welcoming. Part of this stems from his audio, which includes music from pianists/composers such as Frederic Chopin and Erik Satie… Salerno stages Kornbluth's written conversations that draw audiences closer to Matisse and Bourgeois.  Just as important are Salerno's projections, which incorporate plenty of notable work that Matisse created at various points of his career. World War II footage also does a powerful job of adding historical context to the plot…  genuinely uplifting to experience."--Talkin' Broadway
"A multi-talented group is responsible for this engaging show. Director Robert Salerno also designed the sound and excellent video projections. Salerno has a fine cast. Hadlock's Matisse and Keppel's Monique play off each other beautifully, equally committed to different beliefs and goals but each willing to respect the other's choices. Bobbie Helland is excellent as Lydia and scores more points with her expressions, gestures, and carriage than with her words. Catlin is fine as the stereotypical Mother Superior. Burke amuses as the clumsy priest Rayssiguier. Bravo to Kornbluth, Vantage, Talent to aMuse and all involved in telling this engaging story. Better get your tickets now"– SD Gay & Lesbian News
" a slice of history that might otherwise been left unearthed. Very, very nice."–San Diego Story
 "I have visited the Chapel in Vence, and this production brought me right back there."–Audience Member
KPBS Featured Evening News story: https://www.youtube.com/watch?time_continue=3&v=FqqPMDdy4h8
See PBS TV/Radio coverage at:
http://www.kpbs.org/news/2018/jan/11/vantage-theater-stages-world-premiere-color-light/
VIDEOS:
<iframe width="560″ height="315″ src="https://www.youtube.com/embed/tVn4bQ7RNEY" title="YouTube video player" frameborder="0″ allow="accelerometer; autoplay; clipboard-write; encrypted-media; gyroscope; picture-in-picture; web-share" allowfullscreen></iframe>
************

A new play in development by The Spin Doctor is a surreal representation of the hate and divisiveness of our times today. The evil one has returned; he is ever-present. He speaks eloquently, but he preaches hate and fear. Will he succeed in leading us, yet again, into our own demise? Are he and his minions indestructible? How can we stand, speak, survive? Join us for a talk back, share your ideas to stop the spin.
below: Cadenza: Mozart's Last Year by Robert Salerno. Act I: Working on so many pieces, and health deteriorating.
Act I
Working on so many pieces, and health deteriorating.
below: Cadenza: Mozart's Last Year by Robert Salerno. End of Act I
below:  Cadenza: Mozart's Last Year by Robert Salerno. End of play.
below: Be Here Now: The Journey of Ram Dass
below: 
Priscilla Allen Tribute
below: 
Terence Burke Tribute