About Vantage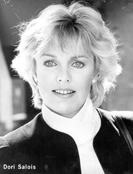 A message from the Executive Director
Vantage offers you a new way of experiencing theatre, a new "Vantage" point on the classics and experimental theatre. Our gypsy company likes to match the play with the space. This site-specific producing is both challenging and rewarding. We are able to bring a theatrical experiencewhere none had existed before.
Vantage Theatre is a non-profit professional theatre dedicated to presenting new theatrical works of the highest caliber.
Vantage Theatre advocates for a diverse, creative, artistic community, We recognize and celebrate individual differences among all theater artists, including but not limited to race, ethnicity, age, gender, identity or expression, sexual orientation, physical abilities, nationality, language, religious beliefs.
Recent successes include the critically acclaimed production of Frankie and Johnny in The Clair de Lune, directed by D.J. Sullivan and Cocteau's The Wedding on The Efffel Tower, directed by Artist In Residence Robert Salerno. Salerno's production of this surrealist farce was hailed by critics and audiences alike for its keen wit and its stunning visual impact. The entire production (including sets, costumes, body painting, and masks) took on the look of a cubist painting by Picasso. The show was honored by Playbill.com with a 2003 "Billie" Award– San Diego's version of the Tony.
Audiences may remember some of our recent site specific events: a world premiere workshop production of ORPHEUS ROX, resident playwright Robert Salerno's rock n roll version of the classic Greek Myth. The story is set in the 1960's with Orpheus as a rock star. Vantage presented this multimedia epic, with a cast of over 22 and innovative non-traditional staging, at the World Beat Center in Balboa Park. It received great reviews in both the local and national press, and was named "Critic's Best of '99"
ARTERY, where audience members become the main character set in a unique walk-through theatre experience was set at Belmont Park.
Vantage was also instrumental in the creation of the Small Professional Theatres Equity code and was the first theatre to put the contract in practice providing local Equity actors a legal venue to showcase their work. Eight Equity actors were employed in Vantage's original musical adaptation of The Importance Of Being Earnest. This audience pleasing romantic comedy was a hit and has been reprised on several occasions. Drama Logue deemed it an excellent musical adaptation.
Other noted productions include:
The multimedia adaptation of Man of La Mancha reflected present day issues between the immigrants and the border patrol, the impossible dream and the Inquisition revisited.
Two by O'Neill, The Butterfingers Angel, Harriet Tubman- A Woman Called Moses, On the Ledge, and Who's Afraid of Agatha Christie?
In a more commercial vein, the Scottish musical drama MacGregor written by Vantage Theatre's Artistic Director Dori Salois, Executive Director Jack Barefield and writing partner Nanci Hunter went to London for a workshop held at Tricycle Theatre.
In addition, Vantage has outreach programs near and dear to us. Classroom Classics is a series of literary and historical plays that tour city schools and community centers, and our apprenticeship program with Hoover High School is vital and thriving.
Mission Statement
VANTAGE THEATRE presents thought-provoking professional theatrical productions. We concentrate on presenting original plays, as well as known contemporary or classic theatre produced from a different "vantage point" We seek to present the "AHA" moment– not only to entertain, but also to illuminate, enlighten, and elevate. Site- specific producing and the creation of producing partners at each site assists us to fulfill our mission of bringing theatre in new ways to new venues, reaching new audiences.
History
Vantage theatre, a division of NewWorks Theatre has a 19-year history creating, adapting and producing theatre in San Diego. Jack Barefield, our founder, Broadway Playwright, and Executive Officer strongly believes in keeping theatre vibrant. He worries about the graying of theatre audiences. As he turns 91 himself this year, still active, still writing (with two books soon to be published) and overseeing the theatre's daily functions, he encourages us to continue to create theatrical experiences to reach new audiences in new and challenging ways.
The educational outreach programs of Vantage have nine Classroom Classics titles and will be adding three more next season. "Our outreach programs and apprenticeships are of primary importance to us. We are always seeking new ways to bring the universal values of a live theatrical experience to young audiences," said Salois. This non-profit operation has been quite a success. Ongoing funding, however, is continually needed to keep the program going, and tax-deductible donations are always gratefully accepted.
Production History
1994-2010
"Damn if Vantage Theatre didn't pull off some hip cutting edge topical fare, stepping in and shoring up local theatre's public presence in a gritty principled way"… City Beat
2009- 2010
Staged Reading Series
New plays presented as an outreach to seniors. The first one completed featured a play by a Senior Citizen. Sold out attendance, Local Critic presented poetry; the play was picked up by another local theatre in attendance for production. Senior comments and discussions made available to playwrights through video. Second staged reading: Who's Calling by Alan Magill. Third one in the series Pyre by Terri Campion at the Swedenborg
2008 –2009
New Perspective Festival
24 new plays by local playwrights presented in repertory utilizing 60 actors and 20 directors.
2007-2008
Cadenza Mozart's Last Year by Robert Salerno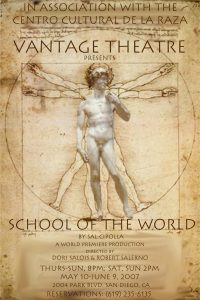 The School of The World by Sal Cippola
Our past season presented two world premieres of significant new works by local playwrights who are not afraid to confront "Big Ideas." School Of The World, drew upon a remarkable event in Renaissance history. In 1503 the two leading artists of the Florentine Renaissance were commissioned to paint giant murals in the same room of the Palazzo Vecchio. They were known to have an intense public rivalry. The play speculates about what might have happened in that room, and why both murals were mysteriously left unfinished. It also examines critical questions about the relationship of art, power, religion, and politics. Several visual surprises that enhanced the production: 12-foot walls with various stages of the murals were created. As da Vinci sketches in his book, it appears on the wall. A plaster cast ensconced Michelangelo in the "David" pose in order to hide him from the Pope's emissary, and he then makes a brave escape using da Vinci's parachute. Finally, an ill-conceived shortcut goes wrong and we see Leonardo's mural melting away on the wall.
The second production Cadenza: Mozart's Last Year by Robert Salerno a play with a large multicultural cast provides a new look at the most famous tragedy in music history. At the height of his creative powers, Mozart is stricken by a horrible fatal illness. Now, it is a race against time to complete the work that means everything to him. Ever the creative genius, he confronts death on his own terms, aided by several unusual characters and a flight into the eleventh dimension of Modern Physics. The play develops new perspectives on time, death, and causality, fueled by the latest discoveries of modern science. Mozart's sublime music is woven throughout the piece along with some new technology to represent the ethereal plane. Both plays were produced at The Centro Cultural de La Raza.
2005-2006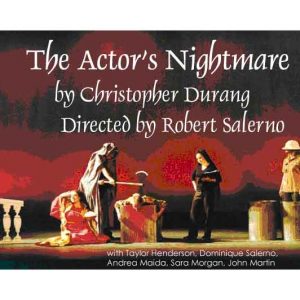 The Actors Nightmare, by Christopher Durang, directed by Robert Salerno, at the Lyceum received an Actor's Festival top ten pick.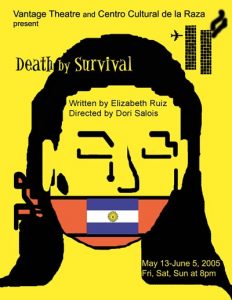 Death by Survival by Elizabeth Ruiz. Vantage brought a world premiere of award-winning playwright Elizabeth Ruiz's new play about the dirty little wars of Argentina, terrorism, and a terrifying leap into the future. This show was risky, in our current political environment, and utilized a cast of 20 at the Centro Cultural de La Raza.. The Mothers of the Plaza in Argentina sent actual footage of their protest, and arrests. A panel of Argentinean authors spoke about their experiences, one of whom escaped from her abductors. Large wall panels were mounted depicting the names and photos of the disappeared as well as the names of military officers and Generals still needing to be brought to justice.
Reverse Psychology by Charles Ludlam's at Diversionary Theatre, which was designated critics pick by the Union Tribune.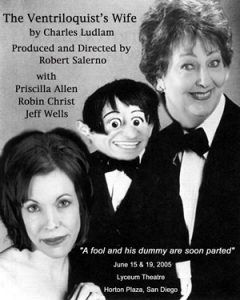 The Ventriloquist's Wife by Charles Ludlam, directed by Robert Salerno, at the Lyceum, received Actor's Festival award. This show featured the legendary Priscilla Allen as Charles Ludlam, a live actor as the ventriloquist's dummy, and live stage magic (sawing a woman in two, etc.).
2004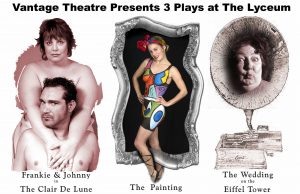 C'est L'Absurd!: The Wedding on the Eiffel Tower by Cocteau, The Painting by Ionesco
Frankie and Johnny in the Clair de Lune
Vantage produced three plays in repertory in The Lyceum Theatre, at the San Diego Repertory. C'est L'Absurd! featured an innovative cubist staging of The Wedding on the Eiffel Tower by Cocteau, a fresh new translation of The Painting by Ionesco (with a live actress portraying the figure in the painting who "comes to life" during the show), and Frankie and Johnny in The Clair De Lune by Terrence McNally. Vantage Theatre received critical acclaim for all three productions. We were awarded two playbill awards for these productions. Some recent Theatre critics quotes for both productions:
" Vantage Theatre reveals void in local theatre, Encore Dammit!"–City Beat "
" Vantage has provided yet another totally satisfying evening of exceptional theatre"–Playbill
"What with the decline in funding for the arts and questions over the war in Iraq, this marriage of shows has as much to say today as during anytime over the past century. Both these remarkably written and staged satires keep us all laughing and smiling throughout in spite of the sad and disturbing circumstances they depict." As Ionesco said, "We laugh so as not to cry."–KPBS
2003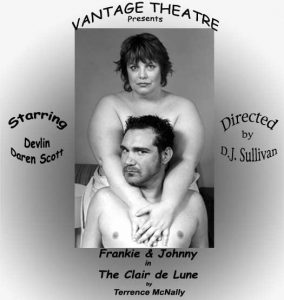 Frankie and Johnny in the Clair de Lune by Terrence Mcnally at the ARK theatre on Kettner. Critically acclaimed production for its non-traditional cast and direction. Vantage donated all theatre seats and helped renovate the space to create a viable 100-seat performance space for ARK, enabling it to host the AASD Actors Festival..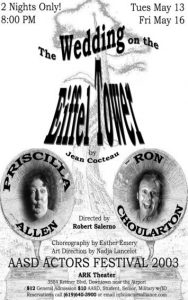 The Wedding on The Eiffel Tower by Jean Cocteau. Robert Salerno's "cubist" production received Best Production and Best Direction Actor's Alliance awards, and Playbill award for Best Design and Costumes at The ARK.
2002
Vantage remounted a production and was able to employ seven more equity actors in their The Importance of Being Earnest, The Musical! during the Christmas season of 2001 and throughout the summer of 2002. This was produced twice in a 90 minute format as a site-specific production at the elegant Westgate Hotel. The Holiday show created a "parlor theatre" setting in the lobby using the grand piano, the opulent staircase and elegant furnishings of the hotel. The summer production utilized the grand ballroom, the upper terrace and the Regency. The Globe again hired these new equity actors for the 01 production of the Grinch with our lead local equity actor from the summer 02 production of Earnest hired as understudy. He performed as the Grinch for several shows.
The abridged production of Earnest worked in tandem with the Westgate's Fountainbleau five star restaurant and the Café to provide an exquisite weekend package of fine dining, entertainment and a luxurious overnight stay for tourists as well as local San Diegans. This inventive partnership was a first for the Westgate Hotel. "On a scale of 1-10 Vantage scores a 20!"….La Jolla Light
2001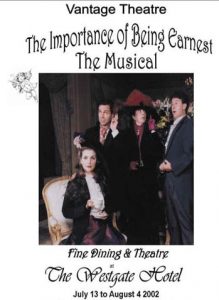 The Importance of Being Earnest The Musical! Vantage Theatre adaptation at The Westgate Hotel.
The Holy Man by Dori Salois and Robert Salerno, an adaptation based on Susan Trott's two best selling novels The Holy Man and The Holy Man's Journey. A humble monk named Joe teaches a simple but hard philosophy to treat everyone as holy. He receives pilgrims on a mountaintop, manages his monastery, and he must find his replacement before he dies. In the process, he saves a disciple from himself. Presented in a staged reading format enhanced with multimedia technology with interpreters for the deaf incorporated into the production at St. Paul's Performing Arts Center, San Diego.
New Plays Staged Reading Series
The success of The Holy Man resulted in a five new play staged reading series at St. Paul's Performing Arts Center. Three local playwrights were produced as well as one Oregon and one New York playwright. Each playwright was awarded $100, a staged reading of the play, and a videotape of the reading. All attended the forums held on each play with written evaluations and direct feedback from the audience.
2000


ARTERY by Chris Hardman
Vantage theatre took over a building at Belmont Park and brought the world renowned Antenna Theatre from San Francisco to San Diego. A 3,000 square foot building was transformed into an interactive, Avant Garde theatre production of the crime drama, ARTERY. Audience members became the main character, moving through a series of rooms wearing special headphones and visual head gear, climbing through windows, stealing diamonds, escaping the police, living the drama instead of watching it unfold and struggling with ideas of good and evil and choices. This critically acclaimed production ran the entire summer from May through September from 2pm-10pm 7 days a week (no small accomplishment for a small theatre). The owners of Belmont Park were grateful for our presence as it serviced park attendees, increased park attendance at night and decreased nighttime gang activity in the park.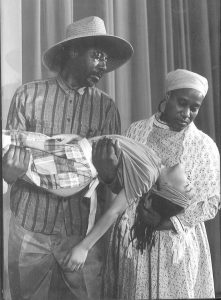 Harriet Tubman, A Woman called Moses and Frederick Douglass, An American Slave by Ellie Stein. Stories of two African-American heroes opened the new African American playhouse of Community Actors Theatre.
1999

Orpheus Rox by Robert Salerno.
Mythology Meets The 60's! A workshop production of an original play was staged at the World Beat Center. The production incorporated several levels of staging, video, film, rock and roll, audience interaction and Greek mythology. The play considers the significance of the Orpheus myth within the context of the modern world, casting the story in the 1960's, with Orpheus as a visionary rock star. It received a critic's pick for 99'
Interactive Courtroom Trial On Trial for Murder by Jack Barefield set in the 40's with Hollywood glamour and transvestite secrets produced at the Red Fox and Inn suites Hotel
1998
Harriet Tubman A woman called Moses by Ellie Stein. An emotionally riveting play about Harriet's life and creation of the Underground Railroad. Accompanied by award winning Hoover Gospel Choir. Authentic Gospel songs woven throughout the play that were actually historically correct as a code of communication for slaves.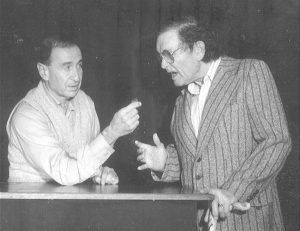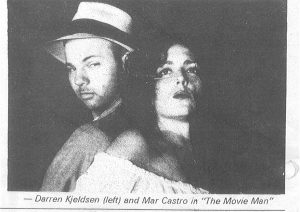 Two by O'Neill: Hughie and The Movie Man Two One acts by Eugene O'Neill. Hughie is the poignant story of a resident living in a hotel, reliving his past glories. The Movie Man is a true to life comedy about two film directors who hightail it to Mexico to film Zapata's revolution. Actual footage of revolution was used.
1997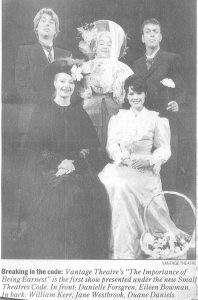 The Importance of Being Earnest The Musical! Adapted by Vantage Theatre
Vantage theatre was instrumental in creating the Small Professional Theatres Producers Code that enabled local Equity actors to work in small local theatres. Vantage was the first small theatre to employ 7 Equity actors under this code for the production of The Importance of being Earnest The Musical! An original Musical adaptation of a classic comedy of manners by Jack Barefield, Nanci Hunter and Dori Salois. Music by Michael Rorah. These Equity actors then were hired for the first production of The Grinch at the Globe
The Adventures of Menahem Mendle by Sholom Aleichem. In this human comedy Aleichem writes about the misadventures of a young husband and father, a traditional luftmensch searching for the pot of gold.
1996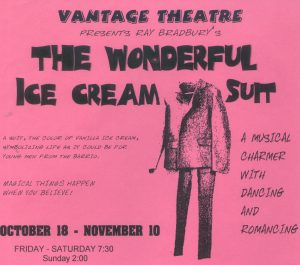 The Ice Cream Suit by Ray Bradbury, set in the barrio, a new white suit shared by six friends changes their lives.
The World According to Sholom Alechiem by Arnold Perl three Yiddish folktales with multicultural casting.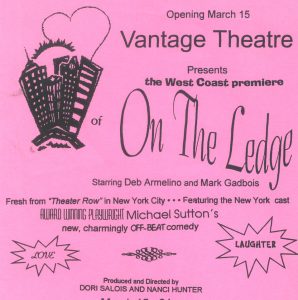 On The Ledge. A world premiere comedy about suicide, grand larceny, and love by Michael Sutton
Who's afraid of Agatha Christie, murders, séances, secret identities and cross dressings in this Ridiculous theatre style campy murder/thriller by Timothy G. Ashe
Politically Korrekt by Nanci Hunter. Everyone gets lampooned from Limbaugh to Hilary just in time for the Convention
1995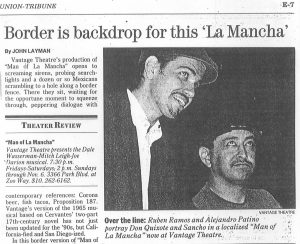 Man of La Mancha by Dale Wasserman. A multimedia updated version to reflect immigrant issues in California. Quixote is escaping Salinas governed Mexico, his coyote is Sancho. Together they bicycle across the border. Panels lined with immigrant stories, testimony of border patrol abuse and photos by Cordobe were on exhibit. Controversial film footage of border patrol abuse was provided by Collegio De Frontera Norte and was used in the production.
The Butterfingers Angel, remounted, a retelling of the Christmas story by William Gibson
Clarence Darrow by David W. Rintel. The riveting story of the monkey trials, a fight for evolution
1994
The Butterfingers Angel by William Gibson, a retelling of the Christmas story by William Gibson. A bumbling angel, talking animals, a jealous Joseph, a sexy singing Christmas Tree, a feminist Mary and her Neanderthal brothers, three unwise men, Herod the Nut. The one blind spot is love.
Alibi an adaptation of The Murder of Roger Ackroyd by Agatha Christie
Look Away– adaptation of The Inspector General by Timothy Gerald Ashe