NEWS…NEWS…NEWS…
COLOR OF LIGHT PREMIERE SPARKLES ON OPENING NIGHT!
See PBS TV/Radio coverage at:
http://www.kpbs.org/news/2018/jan/11/vantage-theater-stages-world-premiere-color-light/
Tickets still available (click on "TICKETS")
Executive Director Published!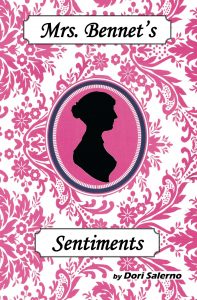 Vantage Executive Director Published! Recent review from Amazon: I loved this version of Mrs Bennet. I have a soft spot for her and her nerves. Mrs Bennet has a lot to put her nerves on edge having to marry off 5 girls with little dowry and we all know Mr Bennett prefers to close the door to his study to crack open a book than to do much of anything useful. No wonder Mrs Bennet is overcome with nerves. The author of this book did a fantastic job of showing how little respect Mrs Bennet receives. It is so refreshing. I think anyone who is in a committed relationship can understand her frustrations. Her kindness and wisdom are readily apparent to all but her own family members. Mrs Bennet follows the beat of her own drum in the end reminding us all to be true to ourselves. If you are a Mrs Bennet fan, this one is for you. Available at: https://www.createspace.com/6197005 or amazon.com
Vantage brings Ram Dass play to Ocean Beach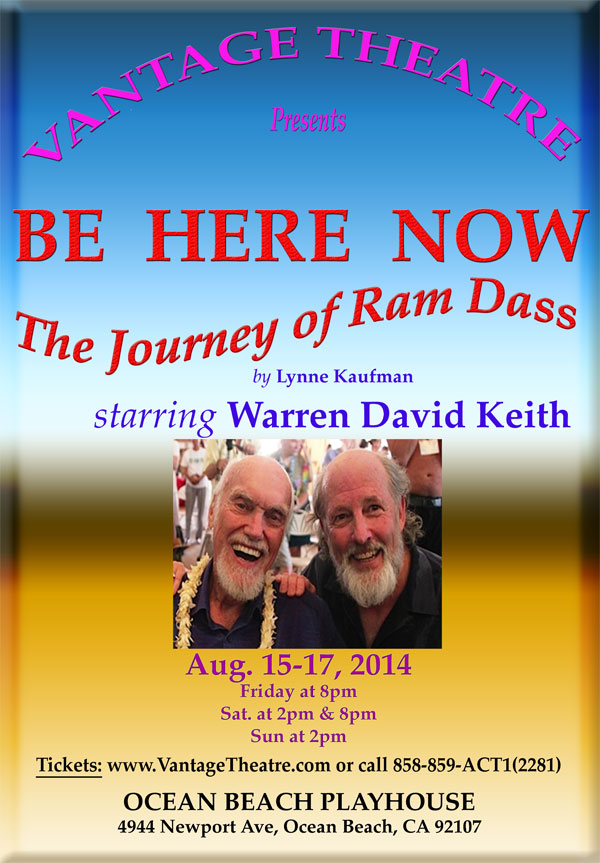 **********************************************
Vantage Appoints New Artistic Director
Vantage Theatre announces that award-winning Playwright-Director Robert Salerno, longtime Artist In Residence at Vantage, will be assuming the post of Artistic Director. Longtime Artistic Director, Dori Salois, will continue as Executive Director.
***********************************************
VANTAGE GOES TO MEXICO!
Artistic Director receives commission from Tijuana for Tchaikovsky project.
SD Theatre Scene Interview with Eric Tauber:
***************
Vantage Sponsors New Perspective Festival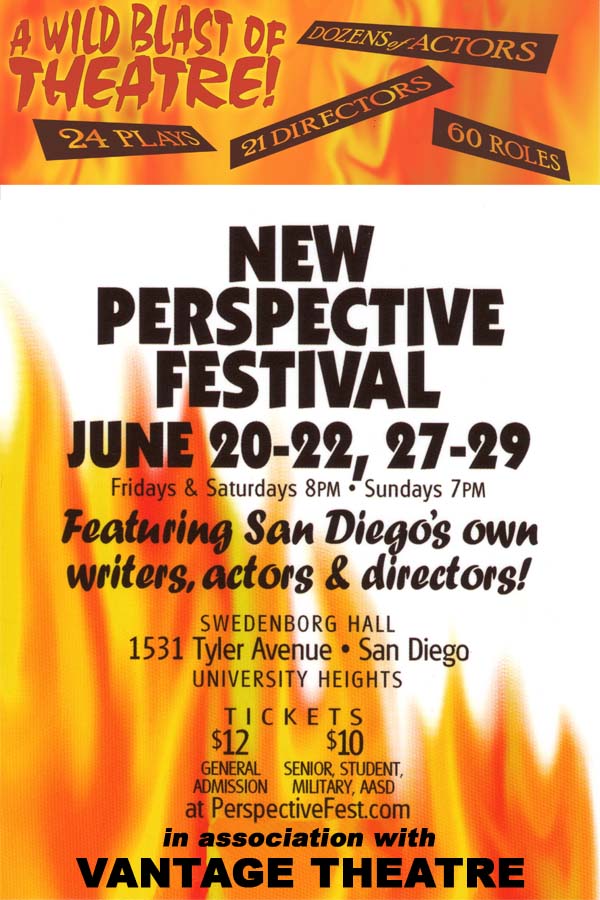 Twenty-four short plays by local playwrights, 18 directors, and over 60 actors.  Each play performed twice in a six-night repertory in addition to three previews  for a total of nine performances  Vantage Theatre stepped in to fill the gap left by Actors Alliance to provide an opportunity for local theatre artists to continue an annual presentation of their work. Vantage Theatre, well known for its commitment to developing new works by local playwrights was the perfect partner for this Festival. The mission of Vantage to offer theatre from a "different vantage point" fit well with the New Perspective Festival's motto: "change your view."  
Artistic Director Dori Salois and Artist In Residence Robert Salerno honored as
"Best of the Fest."
 " hip, cutting edge topical fare, stepping in shoring up local theatre's public presence in a gritty principled way …" City Beat
"Provocative, Insightful, humorous, dramatic and fully satisfying…" Pat Launer
SD Theatre Scene …KUSI
Best of the Fest
Here are some of the highlights of the event, from my perspective.
Themes: The war and the cross-cultural divide seemed to be on many people's minds. Those turned out to be some of the most interesting and/or moving plays:
• Li'l Heroes, another piece by Stephanie Timm, this one directed by Robert Salerno. Chilling tale of two prissy, white-gloved, tea-drinking women (Krissy Tobey and Maya Baldwin) who are having a mindless, Importance of Being Earnest conversation, punctuated by offstage screams. We come to learn about the monstrous world they live in, where even the unborn are drafted into the war. A blood-curdling look into the not-too-unforeseeable future, well written and presented.

• The Thing, by Jack Shea, directed by Dori Salois, seems more like the germ of a play than a fully realized creation. But it confronts a critical current concern: how Westerners conceive of who and what lies beneath the burka. The young Americans, played by Jennie Olson and Kristina Meek, call a veiled Muslim woman 'it' and 'thing,' and fail to see any shared humanity. Harrowing and discomfiting (and begging for further development)
• Rocky Road, by Stephanie Timm, about a family waiting for a solider to come home from the war. Celeste Innocenti and Patrick Hubbard were especially good as the heavily-in-denial parents. Well directed by Sally Stockton (Vantage Tech Director).
—Pat Launer,  http://www.dalemorris.net/Curtain%20Calls.htm
City Beat:
"But damned if it didn't pull off some hip, cutting-edge, topical fare… That goes for Stephanie Timm's very good Li'l Heroes, a futuristic piece about motherhood as a weapon of war.
Director Robert Salerno coaxes a great, understated death scene from Krissy Tobey…"
—-Martin Jones Westlin, http://www.sdcitybeat.com/cms/story/detail/matter_of_principle/7045/
June 20, 21, 22, 27, 28, 29, 2008
Swedenborg Hall
1531 Tyler Ave.
San Diego, CA 92103
***********
2007
SAN DIEGO– Artistic Director Dori Salois announced Vantage Theatre's 2007season. "We are excited to offer two world premieres of significant new works by playwrights who are not afraid to confront Big Ideas." The first production is slated to be School Of The World, by Sal Cipolla. This play draws upon a remarkable event in Renaissance history. In 1503 the two leading artists of the Florentine Renaissance were commissioned to paint giant murals in the same room of the Palazzo Vecchio. They were known to have an intense public rivalry. The play speculates about what might have happened in that room, and why both murals were mysteriously left unfinished. It also examines critical questions about the relationship of art, power, religion, and politics. It will be directed by Salois and Artist In Residence Robert Salerno.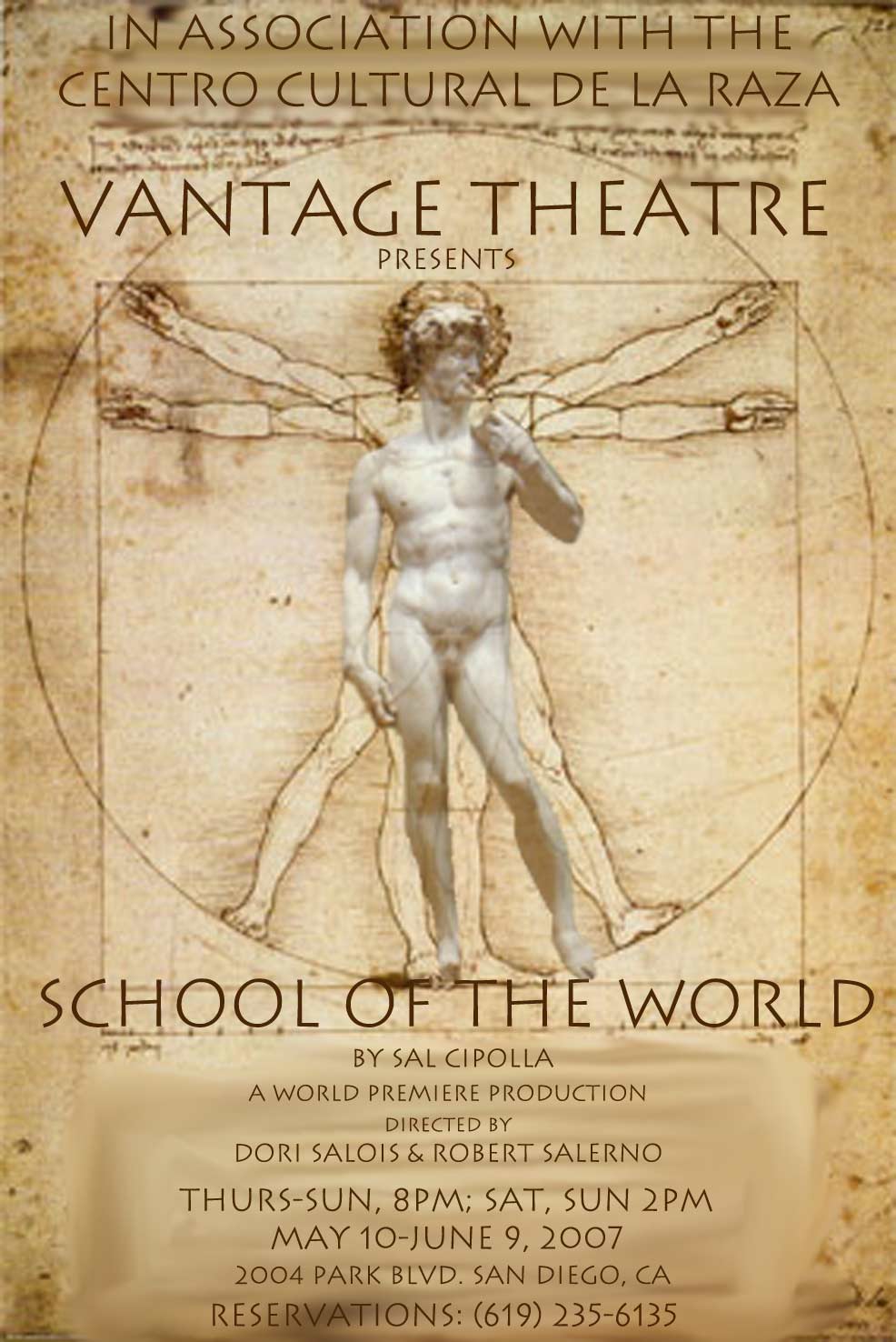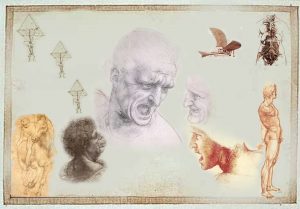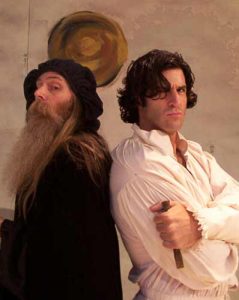 The second production will be Mozart's Last Year by Artist In Residence Robert Salerno, a new look at the most famous tragedy in music history. At the height of his creative powers, Mozart is stricken by a horrible fatal illness. Now, it is a race against time to complete the work that means everything to him. Ever the creative genius, he confronts death on his own terms, aided by several unusual characters and a trip into the eleventh dimension.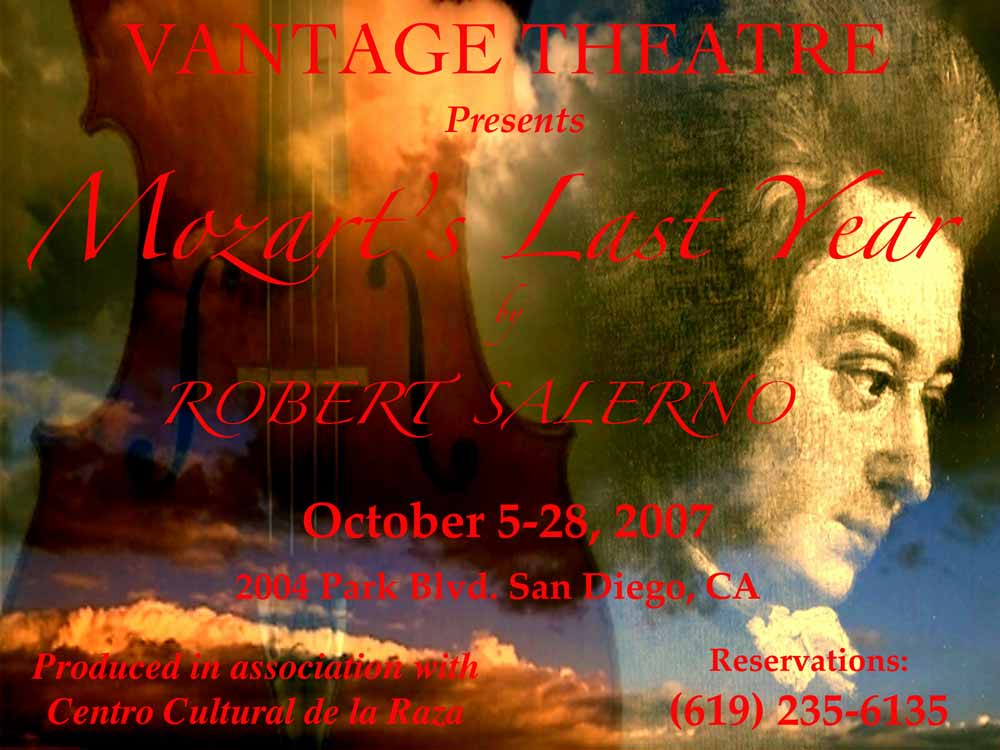 October, 2007
********

Sara Morgan, Taylor Henderson, Dominique Salerno
Artist In Residence Robert Salerno directs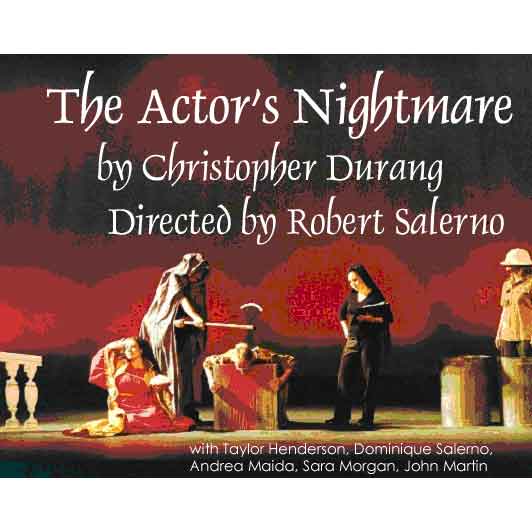 If you're an actor, you've had this nightmare, but it was never this hilarious!

THE STORY: This play was inspired by the well known dream that many people in professional and amateur theatre have, that they go must perform in a play that they have inexplicably never been to rehearsals for, and for which they know neither the lines or the plot. So in this play George is an accountant who wanders onto an empty stage, not certain where he is or how he got there. The stage manager informs him he's the understudy, and must go on in a few minutes. George doesn't know his name, doesn't think he's an actor ("I think I'm an accountant"), and has no idea what play he's supposed to do. He's pushed onstage dressed as Hamlet, and finds himself opposite a glamorous actress who seemingly is in Noel Coward's Private Lives. George does his best to guess the lines, and guess appropriate behavior, but then the actress leaves, and suddenly a new actor comes in, spouting Shakespearean verse (from Hamlet). This is much harder to guess, and after a while George is left alone and must improvise his own Shakespearean soliloquy. In the closing sections, George finds himself thrust into a Samuel Beckett play (a combination of Waiting for Godot and Endgame), which he has very little knowledge of. And then suddenly he's Sir Thomas More in the historical drama A Man for All Seasons, facing a beheading for opposing Henry VIII's marriage to Anne Boylen – and alarmingly the executioner seems more real than he should.
at the
The Sixteenth Annual Actors Festival
SD Rep's Lyceum Theatre, Horton Plaza
**********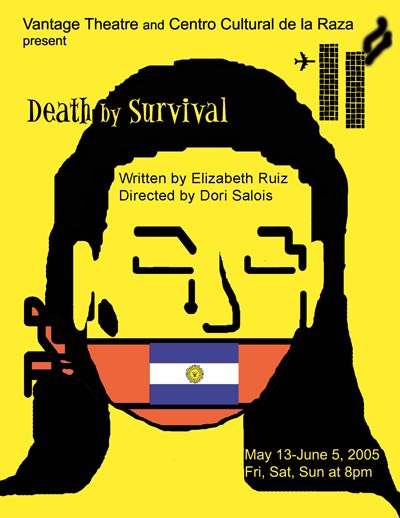 Upcoming World-Premiere Production
by Award-Winning Playwright
Elizabeth Ruiz's "Death By Survival"
*****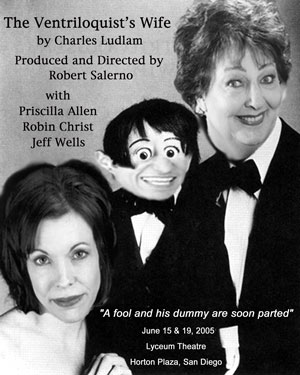 SALERNO TO DIRECT "THE VENTRILOQUIST'S WIFE"
AT SD REP'S LYCEUM IN AASD FESTIVAL
*****
Salerno Directs World Premiere

As part of its New Play Program, Robert Salerno, Artist In Residence at Vantage Theatre, has been hired to direct the world premiere of Marianne McDonald's new play "The Ally Way"  at Sixth & Penn Theatre.
Euripides meets the Marx Brothers in the 21st century!.
Running 7/31/04 to 9/1/04
REVIEWS
"Director Robert Salerno let out all the stops for an unabashedly sexy, over-the-top, vaudevillian romp… the play earned a lively response with its outrageous fun and gags, and its great new spins on the old story – definitely a success."— S.D. Playbill

*****

VANTAGE WINS 2004 "BILLIE" AWARDS
Outstanding Lead Actress in a Comedy or Drama:
Priscilla Allen, The Painting
Devlin, Frankie & Johnny
Outstanding Lead Actor in a Comedy or Drama:
Daren Scott, Frankie & Johnny
 
THE CRITICS ARE UNANIMOUS:
"MUST BE SEEN!"
Vantage Presents at The Lyceum Theatre
"A rare treat… A rich artistic melange… Priscilla Allen, grand dame of local theatre has outdone herself!…"
—Anne Marie Welsh, SD Union Tribune (Read Review)
"Director Robert Salerno, choreographer Esther Emery and designer Nadja Lancelot all provided me with a hearty boost to my bliss, using their handsome cast of 17 actors as though they had bred them for this very occasion. (Salerno and Lancelot even did a slick new translation ). I just relish the joyous leaps through torn logic and the startling images in such improbable juxtapositions."– Welton Jones, SanDiego.com
"An evening of absurdist delight… a true tour-de force… astonishing… rife with craft and subtlety… must be seen."– Charlene Baldridge, Village News
"Two brilliant, hilarious, and thought-provoking productions… "— Rob Hopper
"ENCORE, DAMMIT! Vantage program reveals void in local theater… This avant-garde milestone…had her (and the rest of us) by the ass."–Martin Jones Westlin, San Diego City Beat
"Entertaining absurdist concoction"— S.D. Theatre Scene (Read Reviews)
"Using a singular sense of comedy, symbolism, and satire… under the insightful direction of Robert Salerno, the show moves at a breathless pace leaving one always thinking, laughing, and feeling a bit confused – but definitely never bored."– Playbill.com

" Priscilla Allen is masterful…  Do get to the Lyceum to see these lovely shows."– Jenni Prisk, San Diego Theatre Scene
Robert Salerno's award-winning production of The Wedding on The Eiffel Tower, by Jean Cocteau
Running with Eugene Ionesco's hysterical farce, The Painting,
both starring Priscilla Allen
Playing in Repertory with:
DJ SULLIVAN'S CRITICALLY ACCLAIMED PRODUCTION OF
FRANKIE & JOHNNY IN THE CLAIR DE LUNE, STARRING DAREN SCOTT AND DEVLIN
"This talented duo reached Frankie and Johnny's emotional cores and got every joke along the way…gets as many laughs today as when it premiered in 1987 — thanks to director D.J. Sullivan, actors Daren Scott and Devlin, and the Vantage Theatre production" —S.D. Reader

"a delightful production, teeming with talent"—Pat Launer, KPBS

"Vantage Theatre has provided yet another totally satisfying evening of exceptional theatre."—SD Playbill

"HOLY MAN" BEST-SELLER
MAKES PILGRIMAGE
TO THE STAGE
Please join us for a staged dramatic reading of a new play,
"The Holy Man,"
by Robert Salerno and Dori Salois.
The play is based on the best selling novels of Susan Trott.
Come be a part of the creative process. A discussion forum with the authors and cast will take place immediately following each performance. Your feedback is most welcome.
Performances will take place at the Cathedral Center for the Performing Arts.
The story centers around an unassuming hermit named Joe who finds himself gradually becoming famous as a "Holy Man." Each summer, thousands of pilgrims spend months on a long line up to Joe's hermitage, located on a remote mountaintop. Each has her own unique story and problem to present to the holy man. Several subplots develop. In addition to the pilgrims, there is the drama of the line itself. Joe also has a small group of monks who live with him, and they all have their own issues to grapple with. Finally, there is the story of Joe himself, who realizes that he is old and sick and is desperate to find a proper successor to continue his work.
The playwrights are excited to enter into this project on the cusp of the millennium. "The quest for peace and wisdom is an important millennium topic," according to Salerno. "The Holy Man and The Holy Man's Journey offer a combination of wisdom, charm, and a captivating story. There is a good balance between conflict and serenity, drama and humor– always seeking the "middle way" or balance point where action and stillness can become one through transcendence of their dichotomy." Salois adds, "Vantage has always taken an interest in new theatrical works that can open people's eyes and hearts. We are grateful to have this opportunity to facilitate the development of this exciting project."