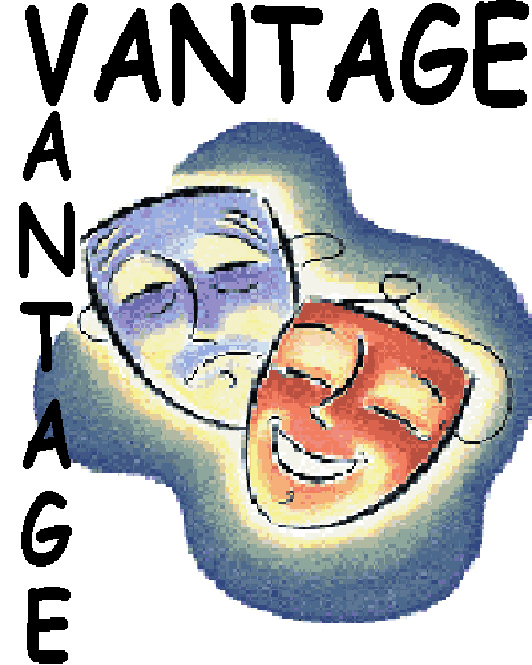 Cadenza: Mozart's Last Year
What the critics say:
"Critic's Pick"--City Beat
"Questions the origins of creative genius-- especially during the heat of actual creation... "
"With profound whimsy, Salerno ponders the time and space continuum and the relationship between the created and the real world..."
"Salerno's otherworldly play made for a rare day to be savored for months to come..."
--Village News
"creative exuberance bursts through...
an evening of worthy entertainment from one of the few theatres in town that takes on new work and shakes out the talent of actors ..."
--SD TheatreScene
"A thought-provoking contribution to one's personal 'field of dreams'..."
"Touching... and marvelously funny throughout..."
--San Diego Newspaper Group
"This drama considers creative genius, and how it exists beyond space and time. The playwright clearly has done his homework, has a great breadth of knowledge, and he's got a lot on his mind.

Rhys Green does an excellent turn as Mozart, with his musical obsession and unlikely inspirations (colliding billiard balls, chirping canary), as well as his impatience and outbursts. Paula Berkenstadt hits just the right notes as the devoted and long-suffering wife, Costanza. James Steinberg, Dave Rivas and Werner Hashagen are delightful in their second-act appearances as Franklin, Beethoven and Einstein, respectively, and they all bear striking resemblances to the groundbreakers they portray.

In the 11th dimension all bets are off. This brilliant meeting of the minds, with all the prescient perceptions and anachronistic detail, some of it knowingly humorous. When Salerno also brings in Sarastro and the Queen of the Night, from "The Magic Flute," the drama takes yet another sharp turn, as the two opposites battle for the Great Man's soul. In the opera, the characters symbolized the voice of Enlightened Reason vs. the irrational and diabolical. In the context of the play, both also refer to arguments about the Masons, with its secrets, morals and metaphysical ideas.
The set and sound design (also by Salerno) are effective and evocative. Salois' costumes are attractive and period-appropriate. There's a lot to commend here. Vantage is certainly to be commended for taking chances, with new work, innovative casting, and provocative ideas."
----KUSI TV
A new look at the most famous tragedy in music history...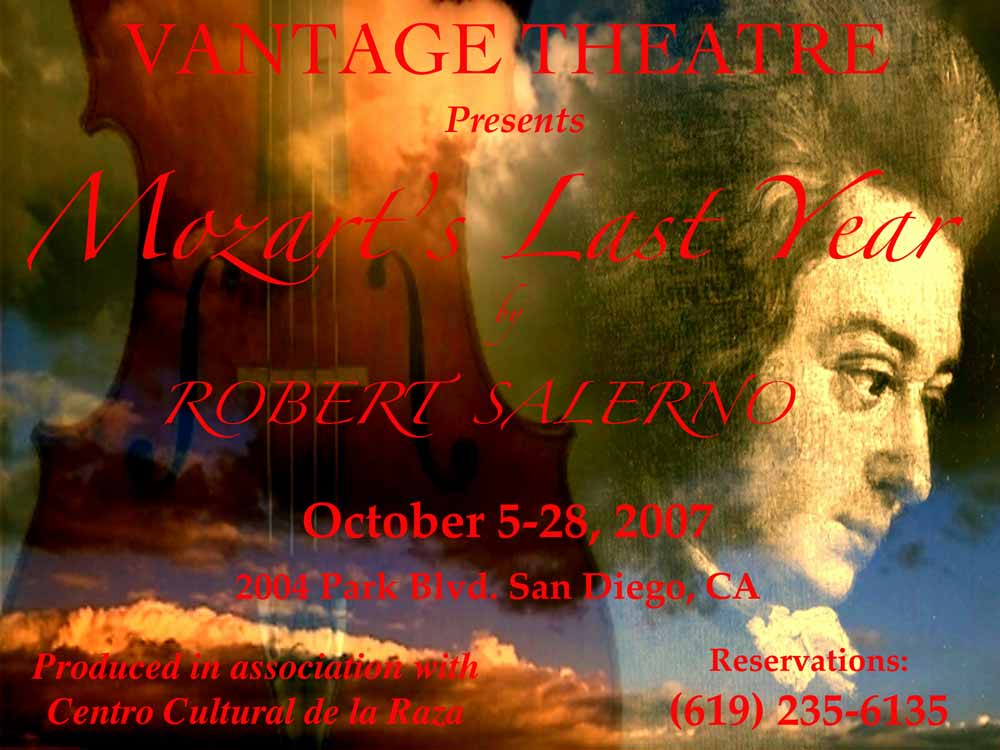 Cadenza: Mozart's Last Year by Robert Salerno offers a new look at the most famous tragedy in music history. At the height of his creative powers, Mozart is stricken by a devestating fatal illness. Now, it is a race against time to complete the work that means everything to him. Ever the creative genius, he confronts death on his own terms, aided by several unusual characters. The Queen of The Night and Sarastro come to life and battle for Mozart's soul on a trip into the eleventh dimension of modern Physics.
VANTAGE THEATRE
Presents
Cadenza: Mozart's Last Year
by
Robert Salerno
Directed by
Robert Salerno and Dori Salois
Produced by
Dori Salois
CAST
(IN ORDER OF APPEARANCE)

Wolfgang Amadeus Mozart ….….……….....….….….…………. Rhys Green
Costanza Weber Mozart ……………………...…….......… Paula Berkenstadt
Josepha Weber Hofer/Nun/Queen of The Night ……............…Patrice Scott
Shikaneder/Mesmer ……….….….…...…..…..…….……..……Skyler Dennon
Messenger, Sarastro …..………....……...………….….………….. Steve Oliver
Sophie Weber ……………...……......……………....………..….. Krissey Tobey
Guardasoni/Franklin…...……….….....………………….…… James Steinberg
Beethoven …….…………….…......……………….……………….. Dave Rivas
Sussmayer ……………....….….....………………..……………. Terence Burke
Einstein …………………...….….………………….….…… Werner Hashagen
Setting: Mozart's rooms, Vienna, 1791.

PROLOGUE
Video Prologue: Mozart's Dream
ACT ONE
Scene 1: Mid-July., 1791. Early evening.
Scene 2: Later that evening.
Scene 3: A few days later. Morning.
Scene 4: A few days later. (Aug. 1) Afternoon.
Scene 5: Three weeks later. (Aug. 25). Morning.
Scene 6: Three weeks later. (Sept. 15). Night.
Scene 7: The next morning.
Scene 8: Two months later (Nov 18). Evening.
Intermission (15 minutes)
ACT TWO
Dec. 4, 1791: Mozart's Last Night.
AUTHOR'S NOTE
In Mozart's time, the Enlightenment was flourishing, and Freemasonry was a flash point for the intellectual elite on both sides of the Atlantic. The writers Voltaire, Diderot, and Claude St. Martin were all Masons, as were statesmen Washington, Franklin, Paine, and Jefferson, composers Haydn and Beethoven, the mysterious occultist Cagliostro, and the even more mysterious Comte de St. Germaine. Mozart joined in 1784 and rapidly ascended to the Master Mason degree, under the tutelage of Master Ignatz von Born, the greatest spiritual teacher in Vienna at the time. Emperor Joseph II left the Masons in relative peace, but upon his death, the secret police began a campaign designed to rid Austria of Freemasonry. Mozart and fellow-mason Emanuele Shikenader risked a long shot-- to save the Craft by an allegorical opera, The Magic Flute. The result is one of the greatest musical achievements of all time. It begins with the hero, Tamino, who is sent by The Queen of the Night on what he believes to be a mission of honor to rescue her daughter (Pamina) who was supposedly abducted by Sarastro, her father. It turns out that the Queen was not the wronged party, but a selfish and evil witch who uses the "mission" as a means of seeking revenge on Sarastro, who is actually the High Priest of The Temple of Wisdom to which Tamino and Pamina are eventually admitted.

Many people have asked how I came to write Cadenza. In thinking about it, I realize that several factors came together for me all at once. It was Mozart's 250th anniversary, and I was reminded of my deep love of his music. I had been thinking about writing something dealing with death for some time. So I thought about Mozart's death and began researching it. I then found myself at the art museum at Princeton University, where I encountered a visiting exhibition entitled "Images of Death" Even though these images were from different periods of history, the thing they had in common was that they all portrayed death as being something ugly and grotesque. My research showed that Mozart's death was also very painful and ugly, but I started to look at it from a different "vantage point" and thought, "What if Mozart could have used his creative genius to transform death into something beautiful, and if so, how?" It all came together when modern Physics entered into the mix. By happy coincidence, I stumbled upon the newest "Theory of Everything" (M-Theory), new theories of time and causality, and the recent discovery of the 11th dimension. I was astounded to find that the most advanced minds in modern science were sounding more and more like the mystics of ancient history every day. Their new ideas suggested a key by which Mozart could reach his goal. In the play, I have attempted to make connections between music, history, science, and spirituality. In so doing, I was tremendously excited by these concepts and the boundless beauty of Mozart's late music. I hope that you will be also.
WAS MOZART POISONED?
In the 200+ years since Mozart died, there has been endless speculation on what killed the 35 yr old genius. Some, including Beethoven for a short time, believed he was poisoned either by a jealous Salieri or by enraged Masons who opposed the public sharing of their secret rituals and traditions. While Mozart's terminal symptoms of extreme swelling, vomiting, fever, rashes, convulsions, delirium and severe pain can be explained by trichinosis, poisoning, and other causes, the most compelling theory is that the composer succumbed to Schonlein-Henoch syndrome, a late complication of Rheumatic fever, a condition from which Mozart is well-known to have suffered since childhood. The greatest tragedy in music history could have been prevented by a simple shot of Penicillin.
Set, Multimedia, and Sound Design
Robert Salerno

Costumes/props/set
Dori Salois
Lighting Design
Sally Stockton
Choreography
Nanci Hunter
Additional Choreography by
Rhys Green

Stage Manager: Jessica Seaman
Assistant Stage Mgr: Krissy Tobey
Lighting Technician: Aleen S. Moulds
Set Build & Additional Design:
HR Spencer
Special Effects
James Kellogg
Seamstress
Robin Boyington
Production Assistants
Jeanine Manker, Terence Burke
Bird Calls
Nicole Perretta